Electrics / Steering lock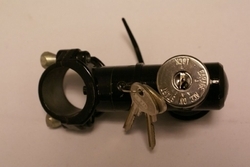 Original Jaguar new old stock E-Type steering lock.

Usable for the late S1 and also for the S2.
750,00

Click here for an estimate request
Items available: 1

For other parts just try your luck and send us a detailed fax of what you require to fax
number: 00 31 72 5645721.
NOTE: All below shown prices are in Euro and excluding 21% Dutch VAT.
Will be send via UPS
* » www.ups.com
* » UPS Tracking