Engine / Crank shafts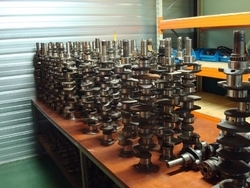 Huge stock secondhand crank shafts of all types in good useable condition for regrind.
Just ask.
Used item.
P.O.A.

Click here for an estimate request
Items available: 50

For other parts just try your luck and send us a detailed fax of what you require to fax
number: 00 31 72 5645721.
NOTE: All below shown prices are in Euro and excluding 21% Dutch VAT.
Will be send via UPS
* » www.ups.com
* » UPS Tracking